Central Library and Municipal Archives – Leganes – Madrid Community
Cultural
2019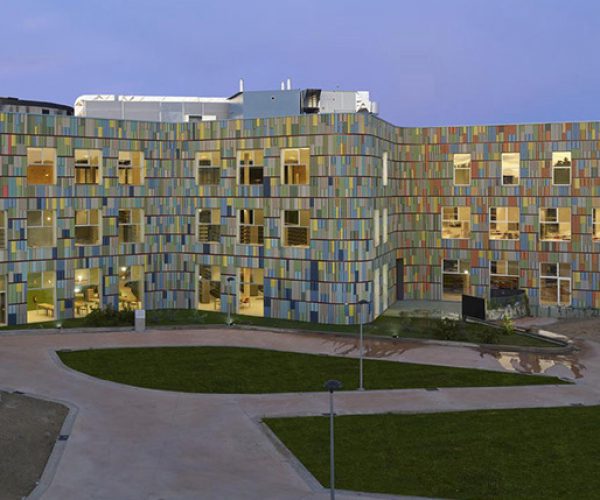 | | |
| --- | --- |
| Promotor: | Ayuntamiento de Leganés |
| Superficie: | 12.000,00m2 |
| Presupuesto: | 20.000.000,00€ |
The complex of the Central Library and Municipal Archives with continuous sinusoidal wall will become an urban icon in a setting that has no representative landmarks, reinforcing the cultural-institutional character of the building. Morphologically, the exterior skin mimics book spines sculped in large multicoloured ceramic bricks of great format. We design 47 different models in 9126 pieces.
On the outside the building has an institutional appearance. As we approach the interior, however, it becomes more playful and cheerful, but without losing the general conception that a building of this scale represents to the neighbourhood. The façade-sculpture has its counterpoint in the Archive building, which also features a sinusoidal envelope of zinc sheets mimicking bundles of files, thus making it a true repository of memories.
The colours used create comfortable spaces and are conducive to productivity and a more pleasant atmosphere for work and study. In the interior, however, colour was used more sparing and austere in order to bathe the premises in natural light and promote concentration for the study. In our proposal, ecological criteria go hand in hand with economical maintenance, sustainable architecture and respect for the planet.
Natural light was an important factor for gaining greater control over the thermal loads caused by solar radiation. The central atrium, as the heart of the building, brings together the activities that take place in the surrounding galleries in a generous space. In addition to fostering communication and allowing natural light to penetrate the entire building, it enables natural ventilation, given that the skylight and windows can be opened automatically to create a chimney effect that allows air-conditioning costs to be reduced in months like May or June.
In order to respect the best orientations and views of the landscape, each façade was designed considering its location, exploiting its advantages and redressing the inconveniences using brise -soleil and blinds that can be operated automatically when needed. At the same time, window sizes vary according to the orientation, as do the glazing and solar protection elements. The treatment of the outer envelope of façades, roofs and insulation minimises energy costs.
Functionally the library distributes the uses in 3 floors and a basement. In the ground -floor we find the exhibition hall, conference room, younger library, childhood library and a baby one, offices and the central atrium. The first and second floor locate adult's library, meeting rooms, mediatheque, cafeteria and offices. In the archives we have also 3 floors. The ground – floor was designed for public spaces. The rest of the building is just for classified workers as the function of an archive is very restricted. The two buildings develop its activities independent. They only share the basement where is located services and uses in common.