Department Building for Economics Faculty UCM University of Madrid
Educational
2016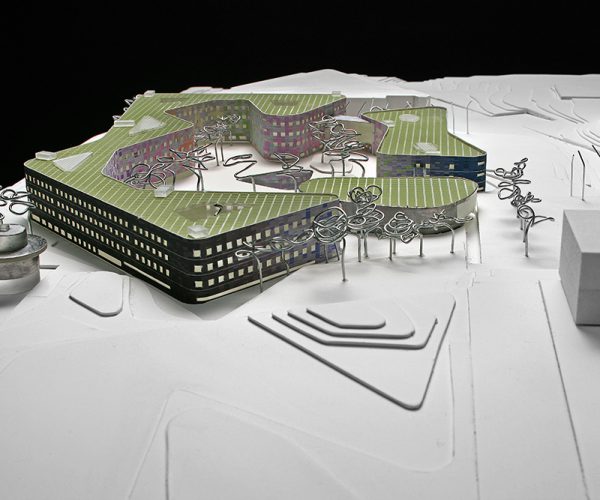 | | |
| --- | --- |
| Promotor: | COMPLUTENSE UNIVERSITY MADRID |
| Superficie: | 20.000,00m2 |
| Presupuesto: | 45.000.000,00€ |
TENDER: 1º AWARD
"GESTALT: the whole is more than the sum of the parts." With this motto we won the Tender in 2007. The Building Complex was treated as a new organization, " an organized whole", where the combination of the existing elements: the topography , a beautiful arboreal species of more than 50 years of age, the rich diversity of birds; they all joined contributing to the future architectural unit generating a Gestalt.
The design of our proposal adapted to the position of the trees embracing them and assuming an organic shape that developed over and across the spaces. To make this effort in the design, the orientation of the façades is variable. However, each façade was designed taking into account the particular orientations and correcting the inconveniences with special protections.
The Department building was developed in 4 floors and 2 basements for parking lots. This a building with a non-monumental structure where the main objective is the relationship between the students and professors, while it shows its social and public character with the environment. Inside, the corridors expand in different levels of transparency, courtyards open or closed, both depending on which bioclimatic conditions are in demand, so they can embrace and contribute to the study atmosphere.