Cultural Centre Viñagrande – Alcorcón – Madrid Community
Cultural
2009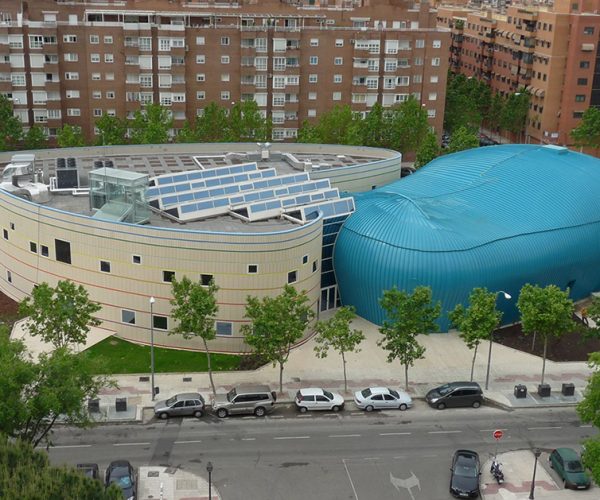 | | |
| --- | --- |
| Promotor: | Alcorcón Town Hall |
| Superficie: | 20.200,00m2 |
| Presupuesto: | 10.000.000,00€ |
The Cultural Centre was located in a future urban development area. Its construction was financed through three underground level parking and at the same time reducing the deficit of parking spaces in the neighbourhood.
Over the roof of the parking lot, we generated a square were the Cultural Centre was situated. This building was constructed thanks to a mixed public and private investment.
The project was developed in two floors jointed by a central atrium acting as an agora. The conference hall, with a sensual shape, volumetrically rotund and unique penetrating inside the atrium and embraced by the cultural centre, also with a sinusoidal shape.
The conference hall was thought as a multifunctional space. We proposed telescopic seats to allow for meetings, informal dances, banquets or exhibitions. Finally, the stage was designed to host theatrical shows and concerts in a neighbourhood scale.
The central agora was organized as the core of the building. From there you can visualize all the different activities.The ground floor housed the reception, information and exhibition spaces. Also, there was rooms for meetings and leisure. The cafeteria, as an independent piece between the theatre and the workplaces, allowed the integration of the interior courtyard with the external square.
The top roof was designed as an ecological, vegetal solution. Thanks to that we gave back to Nature the space it lost by the new building.
The lay out proposed, as requested by the Town Hall, consisted of: conference hall for 250 people, formative classrooms, dance space, cafeteria-restaurant, administration offices and a parking for 700 cars.